Choral anthems & organ music
For its next concert, AROSS welcomes the musicians of the American Cathedral in Paris: a choir of 30 singers under the direction of Zachary Ullery, and at the great organ: Andrew Dewar.
The concert will be the opportunity to hear a new work by Oliver Tarney for choir and organ in world premiere.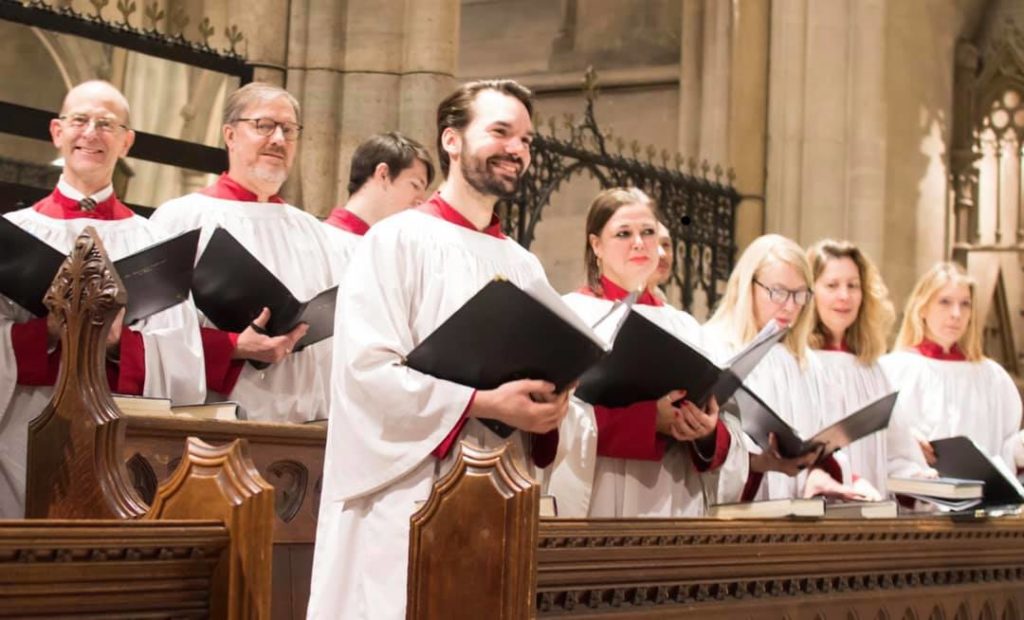 Program
James MacMillan, A new Song [choir and organ]
Michael Tippett, Deep River (from 'A child of our time') [choir a capella]
Bedrich Smetana, La Moldau (arr. for organ by S. Zöhrer) [organ solo]
William Henry Harris, Faire is the Heaven [choir a capella]
Sigfrid Karg-Elert, 3rd Symphonic Canzona Op.85 No.3 [for organ, violin Judith Zöhrer, and female voices]
Charles Hubert Hastings Parry, There is an old belief (from the Songs of Farewell) [choir a capella]
Oliver Tarney (born 1984), Requiem: Lux Stellarum [choir and organ]

Interview: Andrew Dewar
[AROSS] Where do you come from?
[Andrew Dewar] I'm from Yeovil, a small town in the South-West of England, but I've spent nearly all of my adult life living abroad. I left England to study in Stuttgart, Germany, when I was 18 and stayed there for 8 years, I'm now in my 10th year at the American Cathedral in Paris!
Why this program?
We put this program together to exploit the wonderful acoustic of Saint-Sulpice, choosing pieces in which it would be possible to use the large distance between the Grand Orgue and the choir as an advantage to create a dialogue between the two. During the process of selecting suitable pieces, we found a common theme; the expression of faith through nature (water, moon, and stars), and the struggle between darkness and light, we therefore commissioned the British composer Oliver Tarney to write a piece to complete the program based on these themes.
At what moment is you decide to make music your career?
I think I always knew from a very young age that I would like a career in music, but it when I went to study at Wells Cathedral School aged 15 that I became fully aware that it was possible.
What do you do before a concert?
The situation before every concert is usually different, depending on availability of rehearsal time at each venue, which can vary greatly! For me, the time to relax and get 'in the zone' is about 30 minutes prior to the recital.
What music do you listen to aside from classical?
I sometimes listen to jazz music, but rarely have the time to these days. I used to play Alto saxophone which started my interest in this genre, I still have my saxophone but sadly I haven't played it for many years!
If you could voyage in time to meet a composer, musician, or famous person, who would it be and why?
As an organist, I would have to say Johann Sebastian Bach! I would be fascinated to hear how he performed his own music, as well as to see how he managed to compose so much fine music at a time when day to day life must have presented very different challenges compared to life today. Another musician I would have liked to meet, who's performances I find spellbinding, would be the great pianist, Vladimir Horowitz.
How do you choose your organ shoes? (dance, heel, classical, material etc.)
For the past 17 years I've used Organ Master shoes from the USA, the higher heels of these shoes make pedal playing much easier. I purchased a new pair of organ shoes a couple of years ago, but I still use my worn out old shoes which are more comfortable- I will continue to use them until they fall apart!
Is this the first time you play the Saint-Sulpice organ?
I played the Saint-Sulpice organ for the first time in 2006, and have played it a few times since. This will be my first concert here, and I'm very much looking forward to discovering it in more detail during the concert preparations.