Preselections of finalist works
After submission of the works and after a period of analysis and deliberation, the jury will select 4 works in each of the two categories.
Each member of the jury receives anonymized scores. The list of finalist composers is publicly announced to allow performers to work with composers.
Public final at Saint-Sulpice on November 21, 2021
The final will take place on November 21, 2021 at 3pm in the Saint-Sulpice church in Paris.
At the great organ, Shin-Young Lee and Yoann Tardivel will perform two pieces each.
At the choir organ, Loriane Llorca, Mélodie Michel, Alexis Grizard and Louis Jullien will each perform a piece with the choir "Ensemble Sequenza 9.3" directed by Catherine Simonpietri.
→ Biographies et notes of intent of performers (in French)
The concert will be broadcast on a big screen in the nave and live on the internet.
Finalist works for category #1 "work for great organ"
We would like to thank the 72 candidates in the "great organ" category (20 nationalities represented).
After deliberation by the jury, the candidates whose pieces have been selected for execution during the public final on November 21st are (in alphabetical order):
Gabriele AGRIMONTI
Andrea Damiano COTTI
Jean-Emmanuel FILET
Thomas KIENTZ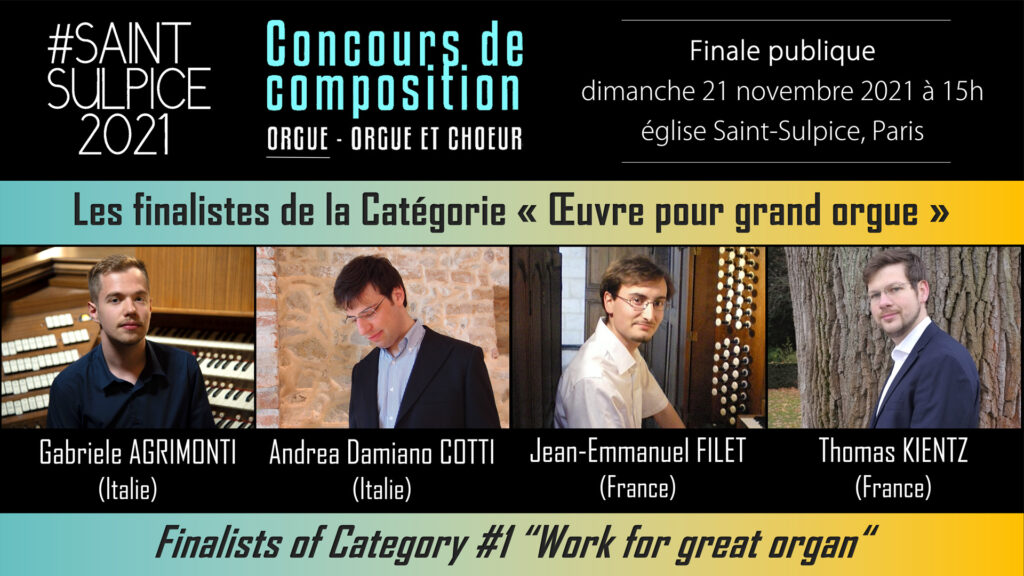 ---
Finalist works for category #2 "work for choir organ & voices"
Registrations for this category are open until August 1, 2021.
---