Pierre Queval
Pierre Queval, titular organist of the Cavaillé-Coll/Haerpfer-Erman organ in St.Ignatius church in Paris and organist in residence in Bagnères-de-Luchon, will offer us a program illustrating the time of Easter, leading us from the darkness of the Passion to the dazzling light of the Resurrection.
Due to health measures in France, this concert will take place behind closed doors (i.e. closed church and no audience) and will be broadcast live on the internet (live-streaming) at the link given below.
A minimum participation of 5 euros will be requested to watch the concert. N.B. people who have made a donation to AROSS during the first quarter of this year will receive a free access coupon.

A time for discussion with the concert performer is planned at the end of the concert (questions to ask on the video chat).
>> Livestream <<

This concert is broadcast by 16-8-4 Productions.
Terms of Sales (in French).
The video of this concert will be available for 3 months starting on the date of the concert (until July 18 midnight CEST).

The 5€ ticket will allow you to access the video as many times as you like during this period.

Please also note that, unlike YouTube, you can only watch the live concert in real-time, but cannot rewind.


In other words, if you arrive late, you can only continue with where it is at in real-time.
The entire concert will only be visible again in its entirety once the live stream has ended.
---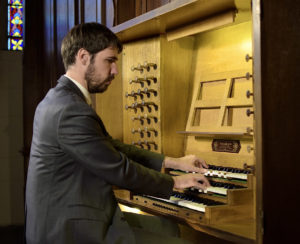 Program
Louis Vierne (1870- 1937)
Cathédrales
(from Pièces de fantaisie)
Marcel Dupré (1886-1971)
– VIII : Jésus console les filles d'Israël
[Jesus consoles the daughters of Israel]
– IX : Jésus tombe pour la troisième fois
[Jesus falls for the third time]
(from Le Chemin de la Croix)
Olivier Messiaen (1908-1992)
– Combat de la Mort et de la Vie
– Force et Agilité des Corps Glorieux
(from Les Corps Glorieux)
Louis Vierne
Final from the 5th symphony, opus 47
Marcel Dupré
Résurrection
(from Symphonie-Passion)