Tribute to Jacques Berthier
19 November - 11:00

-

26 November - 12:00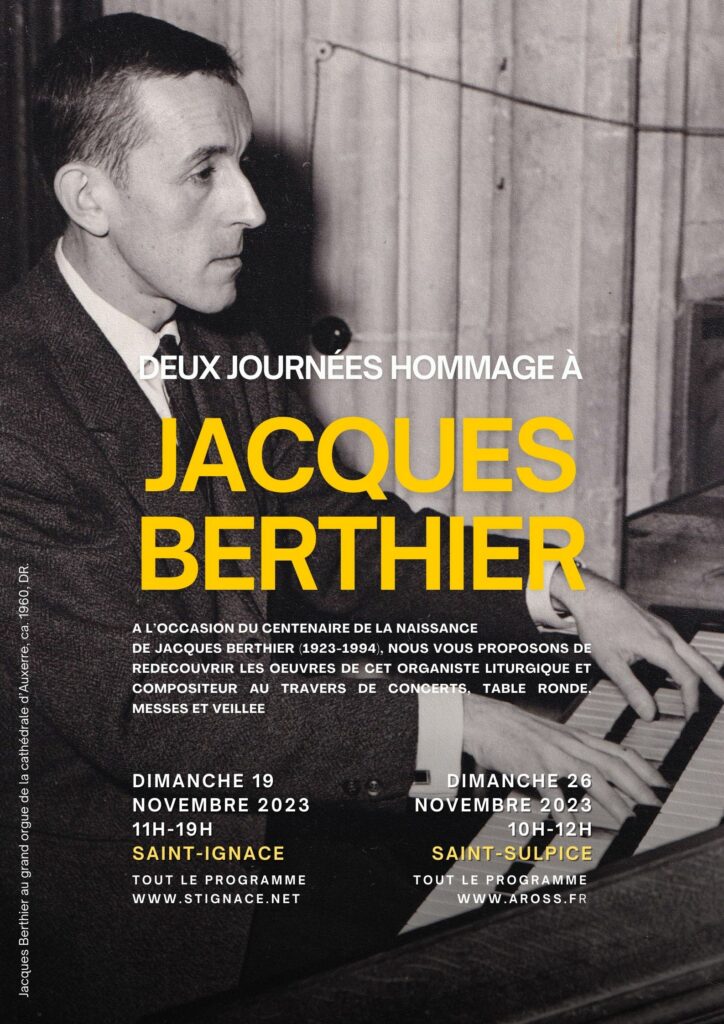 St. Ignace & St. Sulpice churches, Paris
Sundays November 19 & 26, 2023
Two days of tribute to Jacques Berthier
Jacques Berthier
(June 27, 1923, Auxerre – June 27, 1994, Paris)
On the occasion of the centenary of the birth of Jacques Berthier, organist of the St. Ignace church and parishioner of the St. Sulpice church, we invite you to rediscover the works of this liturgical organist and composer through concerts, round table discussions, masses and vigil.
> Sunday November 19, St. Ignace church

11am : festive mass (with songs by Jacques Berthier)
2:30pm : round table Que nous dit l'œuvre de J. Berthier ?
4pm : concert choir, trumpet et organ
5:30pm : Taizé prayer in the presence of Brother Alois and several brothers who came especially for this celebration.
The detailed program here. (FR)
More information: https://stignace.net/ (FR)
> Sunday November 26, St. Sulpice church

10am : Audition of works by Jacques Berthier with Sophie-Véronique Cauchefer-Choplin on the great organ, Louis Jullien on the choir organ, the oboist Franck Le Bail, and the choirs of the Ensemble La Sapience et la Maîtrise des Buttes-Chaumont, directed by Pierre Isabellon
11am : Parish mass in the colors of Jacques Berthier
Program details here. (FR)